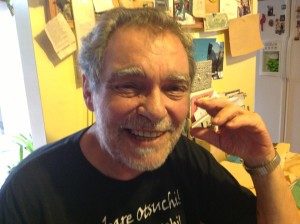 For Immediate Release: 30 December 2017
Media Contact: Shona Ganguly, shonaganguly@gmail.com
Los Angeles League of Conservation Voters statement on the passing of Moe Stavnezer
(Los Angeles County) – The Board of Directors of the Los Angeles League of Conservation Voters (LALCV) released the following statement on the passing this week of longtime LALCV Boardmember Moe Stavnezer.
"This week, the world lost a Social Justice and Environmental Champion. Moe Stavnezer's activism in California began as a member of the Venice Town Council and with the passage of Proposition 20 (The Coastal Act) in 1972. He appeared before the Coastal Commission numerous times as an advocate for affordable housing, coastal access, community preservation, and the protection of natural resources. For that work, in 1978, Moe was honored with an 'Award of Merit' by the State of California. He was also a founder and board member of two statewide coastal organizations, PACE (People, Access, Coastal Environment) and the League for Coastal Protection that advocated for a variety of issues before the Coastal Commission and in the courts, most especially regarding the Ballona Wetlands.
"In the 1980s, Moe was a founder and board member of Heal the Bay, where he served as Vice President, and the Venice Community Housing Corporation, where he served as President. He also served on various boards of the Liberty Hill Foundation, including the Environmental Justice Board and the Board of Directors. Moe was also a founder of the Santa Monica Fair Housing Alliance, and Santa Monicans for Renters Rights which advocated for and won rent control in that city. In 1987, he was a member of the steering committee in the successful campaign to elect Ruth Galanter to the L.A. City Council.
"Moe served on the LALCV Board of Directors for 30 years, including five years as President and many more as Treasurer. The communities of L.A. County are greener today because of Moe Stavnezer. He will be sorely missed by the many, many neighborhood activists, community leaders, elected officials, and environmental advocates who worked with him to create a better planet."
About the Los Angeles League of Conservation Voters
Founded in 1976, the Los Angeles League of Conservation Voters (LALCV) is dedicated to electing leadership throughout Los Angeles County to preserve, protect and enhance the environment. LALCV has helped elect more than 100 pro-environment officials throughout the county. LALCV endorsements are determined by its all-volunteer Board, which is composed of Los Angeles County residents committed to advancing environmental priorities.
For more information on LALCV, please visit www.LALCV.org – and sign up for occasional email updates. And to get the latest LALCV news, please "like" us on Facebook and follow us on Twitter.
###