Michael Kadish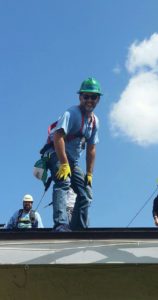 Michael Kadish is the Executive Director of GRID Alternatives Greater Los Angeles.  Since 2013 he has led GRID's efforts to make renewable energy technology and job training available to underserved communities in Los Angeles, helping to secure jobs in the solar industry for hundreds of Angelenos, while overseeing the installation solar electric systems on the homes of families located in environmentally disadvantaged communities from Pacoima and East LA to Watts, Compton, Long Beach and elsewhere across the region.
Michael has over fifteen years of experience in public affairs, non-profit consulting, communications, clean-tech, and politics. His advocacy work includes the successful passage of clean energy legislation on both the local and federal levels, including LA's groundbreaking Solar Feed-in Tariff.  Previously, he served as the Director of Public and Consumer Affairs for the Federal Energy Regulatory Commission and as a Policy Director for the 2008 Obama for America campaign.   He holds a Bachelor's degree in History with honors from Columbia University and a Master's in Public Policy from Harvard University's Kennedy School of Government.
Michael lives in Echo Park and enjoys stand up comedy, camping and live music at the Hollywood Bowl.